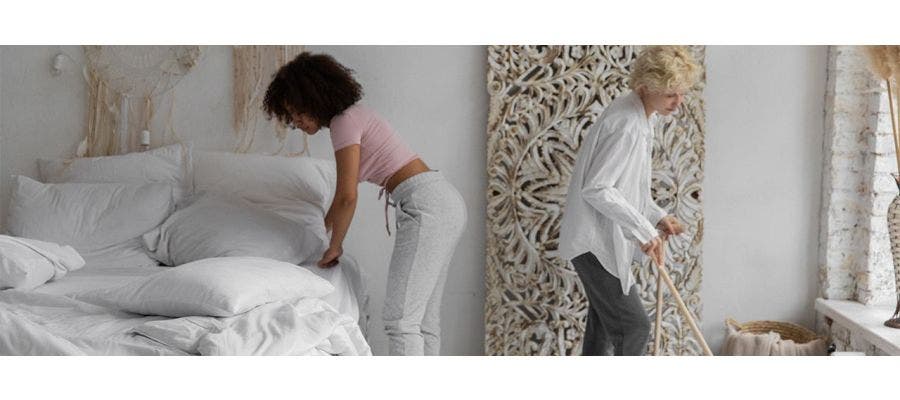 'Tis the season of everything green. The trees are budding, the grass is growing, the world is waking up. 'Tis also the season of everything clean. The Earth gets a fresh start, and it's only natural for you to want the same. Bring on the spring cleaning!
But heads up: how you spring-clean can make a big impact on the environment. Cleaning your home shouldn't come at the cost of our collective home – and it doesn't have to.
Are you ready to tackle your spring cleaning the green way? If the fresh air outside has you motivated to create a fresher space INSIDE, read this first.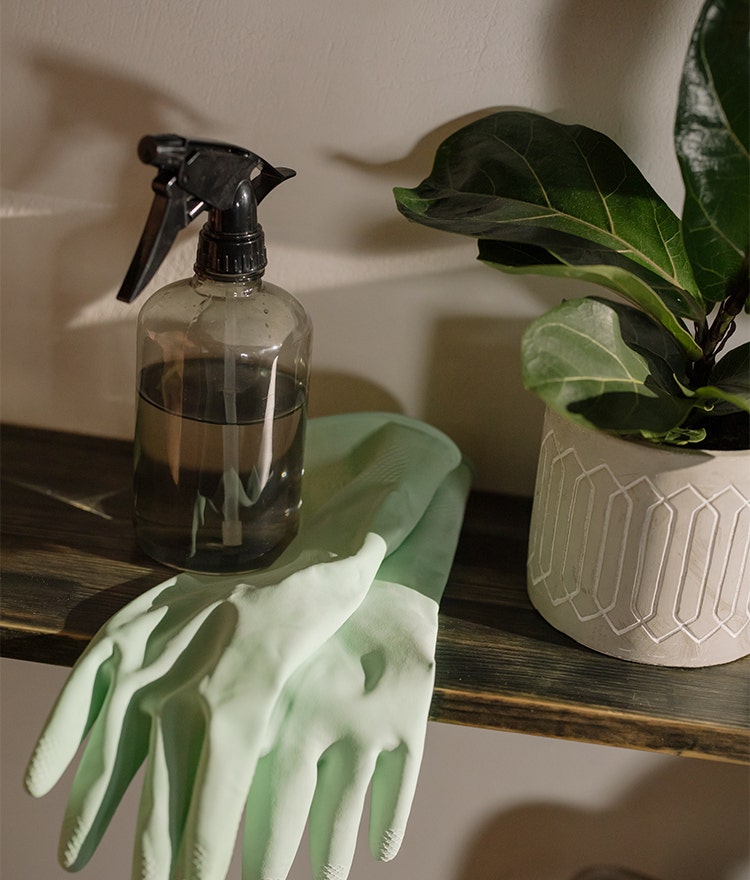 Why green cleaning is so important
Cleaning products should be clean – plain and simple. They're meant to improve your home health, but choosing the wrong products can actually harm that of both you and the environment.
It's important to remember that cleaning chemicals are just that: chemicals.Topical exposure or inhalation can cause eye, skin or respiratory irritation. Beyond personal health, these chemicals can harm the environment, too. They can pollute the air and water, and their handling, transporting and disposal poses additional risks.
On the other hand, eco-friendly cleaning products should not contain hazardous substances. They're easier on the environment, and on your health, too – and a healthier home is a happier home.
How to tell if an "eco-friendly" cleaning product is really your friend
Notice that we said "eco-friendly" cleaning products should not contain hazardous substances. Because, unfortunately, sometimes they do. Eco-marketing is run amok with greenwashing, aka tactics used to make the consumer believe a product is more environmentally friendly than it actually is. Think about it: what do words like eco-friendly and green really mean? They're not defined by law or regulated … so technically, these terms don't have to mean anything.
Clean Water Action recommends considering the following elements when shopping for eco-friendly cleaning products:
Biodegradable

Non-toxic

Bulk packaging

Recyclable packaging

Packaging from recycled materials

Phosphate-free

Label with full disclosure of all active and inactive ingredients

Natural fragrances

Free of dyes, hypochlorite and chlorine
Before you clean, declutter responsibly!
Spring cleaning may feel like a colossal task if your home is full of winter clutter. Tackle this before you get to your scrubbing and dusting and sweeping – spring is a great time to go through old closets, drawers or any other spaces that feel a little too crowded.
As with any task, you should declutter responsibly. Be mindful about what you throw away. Can your unwanted items be donated, instead? Try to give your clutter a second life, before you book it for ten lifetimes in a landfill.
If you're not sure what to do with large items, you can always use a responsible junk removal service like our friends Load Up. Getting rid of an old mattress? We have tips on what to do with it here.
Your eco-friendly spring cleaning checklist
Aside from using non-toxic cleaners, these five tips will help you keep your clean green and best set your home up for success.
1. Get some fresh air … inside
In Italy, it's a common practice to "change the air" inside your home each morning by opening the windows for 30 minutes to an hour and letting the fresh air in. This is a great practice for anyone to follow when cleaning the house for two reasons. First, pollution is often higher inside the home than outside. According to the EPA, concentrations of some pollutants are often two to five times higher indoors. Opening the windows relieves your home from some of that pollution.
2. Use reusable cleaning towels
This one's a no brainer. Using single-use cleaning cloths and tools like paper towels, pads and wipes may feel convenient. But when the methods you use to clean your home require making a mess of Mother Nature, you might want to rethink your methods. Opt for reusable cleaning towels instead. You'll reduce your waste, and they're a one time investment — instead of buying more in a couple weeks, you can just throw them in with the wash.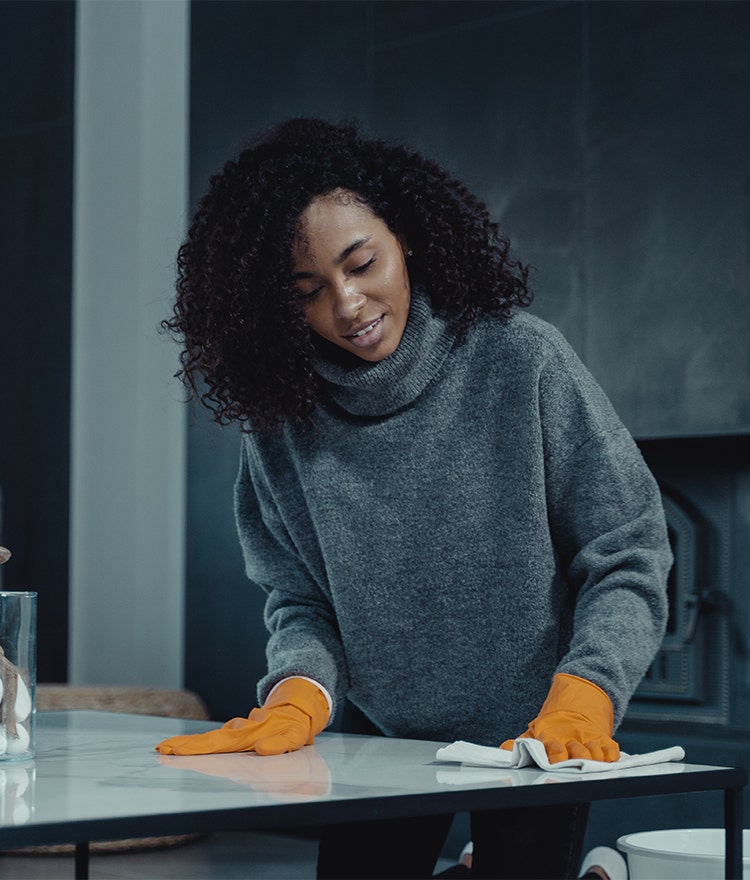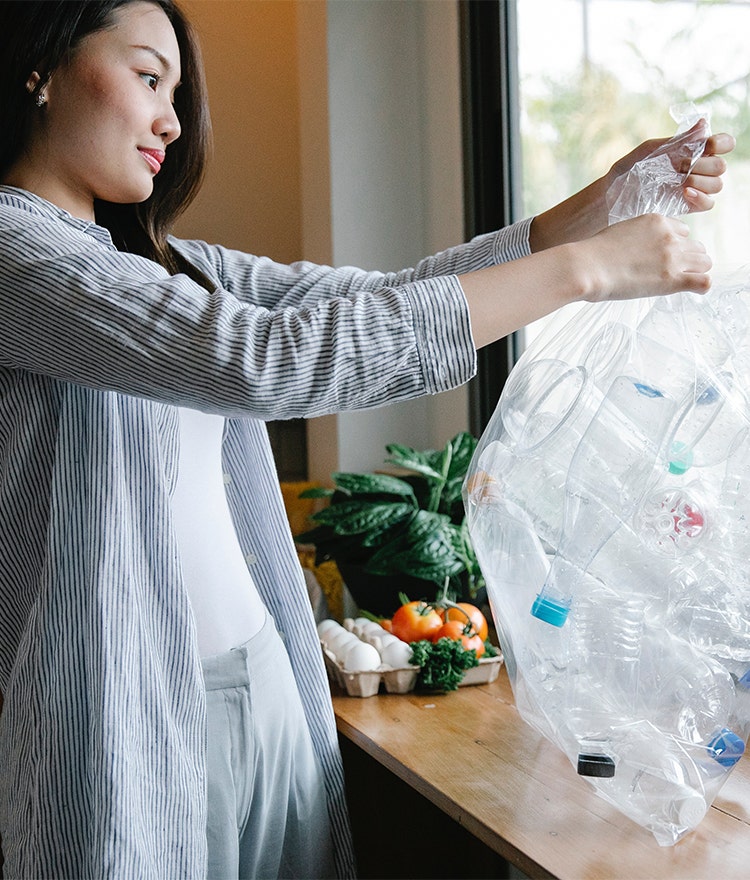 3. DIY it!
Having trouble finding eco-friendly cleaning products that check all the boxes? Make your own, instead. Many household staples like lemon, baking soda, vinegar and more can be useful when cleaning. Invest in some reusable glass spray bottles (glass is better than plastic, as it's free of phthalates), and check out these recipes from Real Simple to get you started.
4. Brush up on your recycling knowledge
The more successful cleaning sprees don't just get the job done; they set healthy habits for the future, too. One green habit that most of us could use some brushing up on is recycling. Sometimes, it isn't just the thought that counts — recycling improperly can cause entire batches to go to landfills, instead. Check out Happsy's quick guide to recycling at home for everything you need to know.
5. Take green literally … adopt a plant!
Want to improve your indoor air quality? Add a plant to your family! It will act as a natural air filter and pump out oxygen – not to mention plants make great home decor, too. Common houseplants with air-purifying properties include:
Peace lilies

Snake plants

Golden pothos

Bamboo palms

Spider plants

Aloe vera
Heads up: if you have any pets, do your research before you buy! Some houseplants can be toxic to pets when ingested. If you're unsure, consult with your vet.
You can spring-clean your organic mattress, too!
Not only can you clean your mattress, but you absolutely should clean it. Mattresses accumulate dead skin, dust mites, bacteria, allergens and other icks over time — so much so that they actually gain weight as time goes by. Remove your bedding, spot clean any stains, vacuum your mattress (that's right: you can vacuum your mattress), sprinkle it with baking soda to deodorize it, let that sit for up to a day and then vacuum again. Voila!

Pro tip: adding a mattress protector pad will help keep it safe from stains, allergens, bacteria and more, and can seriously prolong the life of your bed.

Of course, cleaning can only go so far. If your mattress is made with toxic chemicals and harmful materials, you've got a bigger problem. Spring is a great time to refresh your sleep as well as your home – learn more about Happsy's certified organic, planet-friendly and crazy-comfy mattresses to take the next step in your spring cleaning journey today.