Get to Know the MADE SAFE® Certification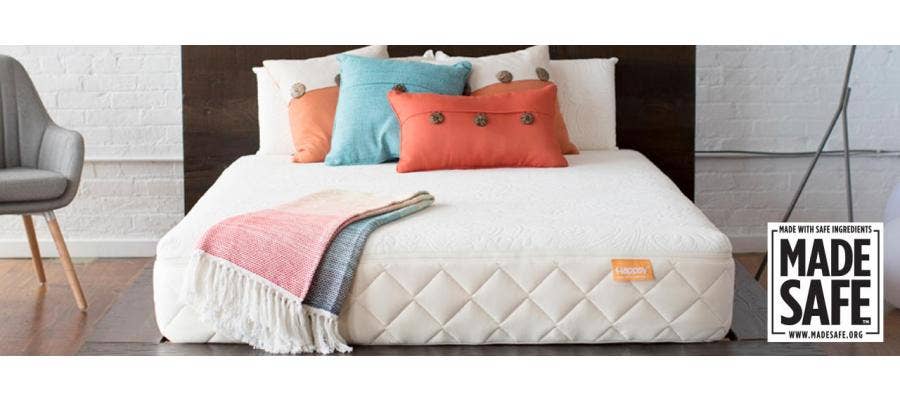 Choosing Happsy means choosing a healthier lifestyle — plain and simple. Our organic mattresses largely eliminate the harmful chemicals that run rampant in conventional mattresses, especially ones sold online.
Since we don't want to sleep on 100 lbs. of petrochemicals and flame retardants (and we're pretty sure you don't want to, either), Happsy works tirelessly to promote a vision of health and sustainability in all of our products.
As a result, we take every step to ensure that the materials in our mattresses are as safe — and as healthy for you — as possible. We truly care about your wellness, which is why we care about our organic certifications and all of the other non-toxic and environmental endorsements.
One of those certifications is MADE SAFE®, a certification that means our mattresses are made with safe ingredients without any toxic chemicals known to harm human health.
All MADE SAFE® certified products have passed ingredient screening for known:
Behavioral toxins
Carcinogens
Developmental toxins
Endocrine disruptors
Fire retardants
Heavy metals
Neurotoxins
High-risk pesticides
Reproductive toxins
Toxic solvents
Harmful VOCs
The materials used by Happsy have been carefully examined by scientists and experts at MADE SAFE® to ensure they do not contain harmful ingredients or release vapors, gases, or by-products that could impact human health in a negative way.
MADE SAFE® experts scrutinize the molecular makeup of a product and determine whether or not those ingredients and elements are safe for the intended use of the product.

At the most basic level, being MADE SAFE® certified means that each Happsy mattress is made with safe ingredients.
You can therefore rest easy knowing that you're not sleeping on toxic chemicals or breathing them in as a result of your mattress. With this seal, we're pioneering change for how products should be made in this country: safer, healthier, and less toxic.